Welcome to Montgomery Animal Hospital
……..Your Other Family Doctor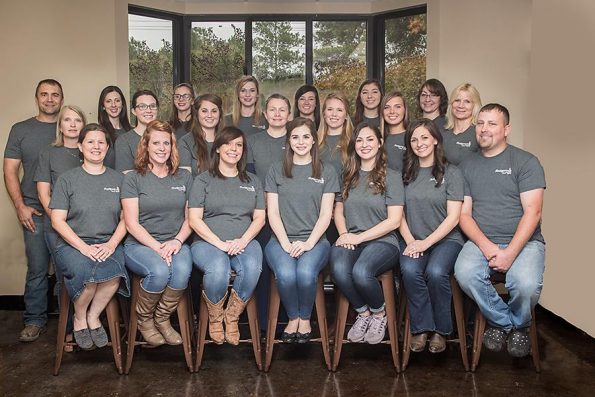 Montgomery Animal Hospital is a mixed animal veterinary practice serving all of your small and large animal needs. In May 2009 we moved into our new state-of-the-art veterinary hospital. No need to worry about finding the new hospital because we are still in the same great location to serve you. The new hospital is three times the size of our previous hospital with numerous amenities to better serve you and your pets. Our business hours are from 7am to 5:30pm pm Monday through Friday with 24 hour emergency services available. We see patients by appointment, but walk-ins are always welcome. In order to provide the best quality care for your pets we offer in-house laboratory profiles, digital radiology, ultrasound and surgical services, in addition to preventative medicine. We have indoor boarding facilities for small animals and for your convenience, we offer mobile veterinary services for your large animal needs. We also offer a full line of Purina veterinary and Pro Plan diets as well as a great selection of collars, leads, shampoos and other products that you may need in caring for your pet. We have recently added a new line of candles and air fresheners that help to eliminate pet odors as well. Thank you for considering Montgomery Animal Hospital for all of your veterinary needs. We look forward to serving you in the future.
*****Beginning in June 2017 our hospital will be closed on Saturdays.  Crossroads Animal Emergency Clinic in Alexandria will be open and available to see small animal emergencies.  Please know that we did not come to this decision easily, but this schedule change will allow our staff and your pet's medical care team much needed time with their family and loved ones.  We will continue to be available for all of your pet's healthcare needs Monday – Friday from 7:00am until 5:30pm as we have been in the past.  Thank you for your understanding. *****
Throughout the months of January and February, we will be spotlighting dental health tips for your pet. Most dogs and cats have developed some form of periodontal disease by age 3. Left untreated, the infection can lead to tooth decay or tooth loss and can even spread through the blood stream and cause vital organ damage. Watch our page for more information on how to prevent your pet from developing periodontal disease.
In coordination with our efforts to help you and your pets, we are also working to help our community. Throughout the months of January and February, we will be collecting oral hygiene items to be donated to Manna House Ministries ~ Alexandria, La. Anyone who donates 3 or more items will be entered in a drawing for a complimentary dental scale.